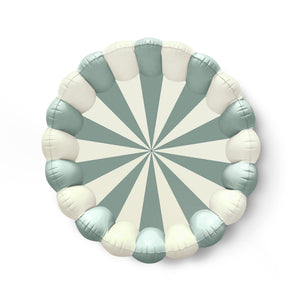 This spacious paddling pool brings fun water play directly to you. As the latest addition to the collection, the Henry pool comes in Petites Pomme's iconic stripes, in a selection of beautiful colours.
Good to know:
Size Ø: 160cm x 45cm

Recommended age: 3+ years.

Empty the pool when not in use.

Never install a paddling pool over concrete, asphalt or any other hard surface.

Always use under constant supervision.

Read usage and safety instructions first.

Free of BPA and phthalates.

Delivered in a reusable bag of organic cotton for easy storage when not in use.

All floats are hand-printed. This process is completely manual and depending on the pressure of the hand, small colour variations between products may occur.
Product Care:
By handling your floats with care you extend the life of the product, hence reducing the need for unnecessary waste and excessive consumption. Below are a few tips on how to best care for your Petites Pommes Henry Pool:
Change the water regularly.

Never over-inflate or use compressed air to inflate your product as this may cause it to burst.

After use, rinse with clean water or wipe with a damp cloth.

Ensure that the pool is dry before folding and storage.